About Us: Our Story!
I've always dreamed of having a spot in the Texas Hill Country for riding as well as just the natural beauty of it all. Nestled in Bulverde, Texas between FM 1863 and Hwy. 46 on Smithson Valley Rd., just ten miles north of San Antonio, Texas (Map) I found the perfect get-away. No other location would do as I remember fondly as a child tagging along with my grandfather to his ranch in Blanco, Texas. His love for nature and it's eruption of natural beauty made me wish for all the same things. A quiet spot in this big world to make acquaintance with all the flowers I once thought were weeds, the animals I never got to see in the city and the birds I still don't know the names of. A wholesome view of God's creations in a setting I never would have been exposed to if not for him. Over the years, and as the time grew right, I worked to make my permanent home in that same atmosphere. Sharing it with others who felt the same was all that was left undone.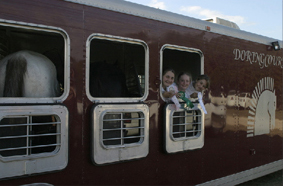 So, in August 2004, we made our move to 32600 Smithson Valley Rd. (Map) and created Doringcourt Stables and Exotics, a beautiful setting for an afternoon ride or pens designed for a workout lesson or training for a big event are on site. Always striving to improve our facility to suit every riding need, we have two 66' lighted round pens, a lighted 90' X 225' arena, shed row to include individual tack rooms and a soda machine for the hot summer days.
One of the big concerns I have always had is the captive quarters (usually 12 X 12 stalls) that our equine friends are forced to live in, day in and day out, in most stable facilities. Certainly not my idea of a wonderful life . . . so I've created a shed row of stalls that each horse is only confined to at grain feeding time, giving them the remainder of their lives to run and mingle in the herd and the freedom for which they were created. I feel this makes these horses the "lucky ones". The beautiful oak and elm trees, seasonal creek and hills make this an ideal home for horses of all sizes and temperaments.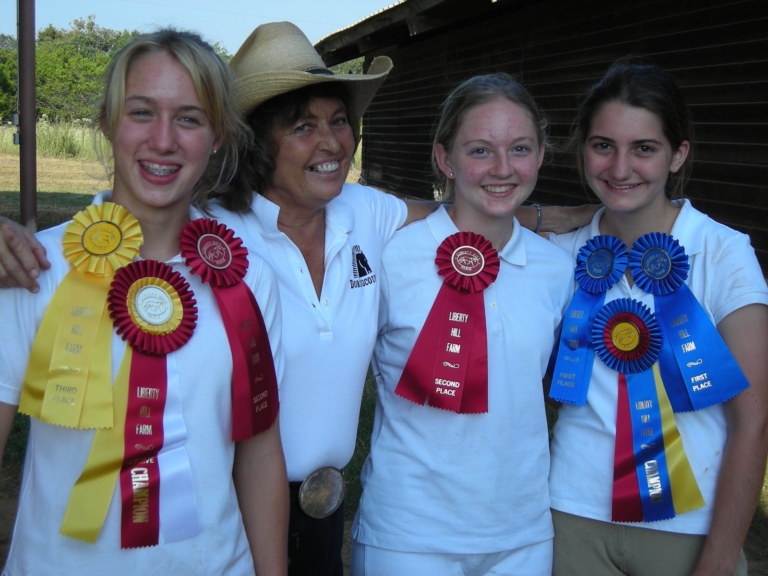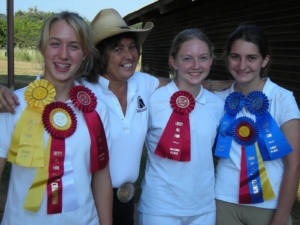 I've always longed to have a variety of animals around me, in addition to the horses I personally own, so in 1998 I began purchasing different breeds of exotics, as well as the "not so exotic", and raised them from an average of 2 months of age and "bottle fed" them until they were weaned, which is the key to having very tame animals. I joke at the fact that some of them have no idea what they really are, as I've purchased only "one" of most breeds. The camel for instance, Hershey, was raised with a buffalo named Tatonka and a Holstein steer named Motown, so I'm sure he thinks he's one of them. I have a John Deere Gator and Hershey races me up and down the fence line and tries to cheat by getting a head start. Of course I make him come back to the starting line and race me "fair". He always wins anyway. He also plays soccer with a big ball he loves. I took the buffalo to have her bred and on May 17, 2005 she gave birth to a new little guy we named "Siouxnami". Someone asked me "How did you get her in the trailer?" I simply opened the door and said "get in".
In addition, the donkey's, llama, alpaca, elk, fallow, blackbuck, mini potbellies, mini horse, goats, chickens and rabbits are a welcome sight for most visitors and certainly a big attraction for those who board here. All of the animals are "hands on" and love the attention. I've created a situation where anyone can walk up and pet each of them without being in harms way. Though they are all very tame, their sheer size can create problems in making a quick move or simply turning around. We also have an abundance of wild deer in the area and a large covey of turkey to include four gobblers and over sixty hens. As close to heaven as you can get I'd say.


210-392-9627